Join us this summer at Camp FGC!
Our camps provide the finest gymnastics training and recreation for the ultimate summer experience for girls and boys ages 6 to 14 1/2 . Enjoy gymnastics, trampoline, and tumbling in our state-of-the-art facility.
Camp FGC is Serious Gymnastics, Serious FUN!
---
Rates & Times
All Camps Include a T-Shirt (1st day attended)
½ Day Camp Only : 12:45-3:45 pm
Please Note: Camp registration will be closed if the minimum registration is not met by 8:00 pm the night prior to that camp date.
---
If you have been enrolled in a class from the Summer of 2013 through present – Please DO NOT click the Enroll link, but CLICK on the Customer Login to the right. If you need further assistance in logging into the site, please click here for support
Week of August 26th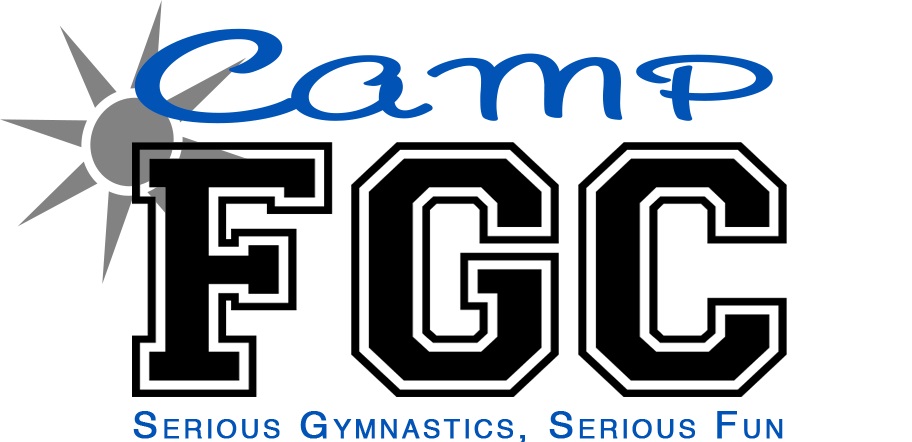 Join us for CAMP FGC!
Half Day Camps Offered During the School Year
No school? Or just looking for a place to expend that energy?
CAMP FGC is a fun-filled, action packed experience offering a variety of unique activities each day.
Send them to CAMP FGC for gymnastics fun and education!
Spaces are limited so don't hesitate to sign up.
CAMP FGC Dates
2019 – 2020 Camp FGC

Register Below

September 20
December 23

January 20

October 9
December 27
January 29
April 13
November 8
December 30
February 17
Gymnastics, Ninja Gym Obstacle Courses, Trampolines, Games, and Open Play
An Energetic, Fun-Loving, Trained, and Certified Staff
Separate Groups, Divided by Age
Low Student/Teacher Ratios

Tumbling Camps are great for gymnasts, cheerleaders and anyone who wants to learn or increase their tumbling skills. Bringing 20+ years of experience, Ms Leigh, is ready to develop your full potential.
Level 1 – Handstands, cartwheels, forward and backward rolls, bridges and tight body positions.
Level 2 – Round offs, back bends, back walkovers, back handspring drills, front walkovers and front tucks and back handsprings with a spot.
Level 3 – Aerials, back handsprings, front handsprings and tucks, round off back handsprings, tucks, layouts and twisting.
NEW!! Acro Skills for Dance:(ages 9-16 years)
Looking to improve your acro elements for dance? This is the ideal camp for aspiring dancers of all skill levels. Beginner skills will include handstands & cartwheels. More advanced skills include aerials, walkovers and back handsprings. The camp naturally progresses through skills at the athlete's pace.
NEW!! Senior Tumbling :(ages 12-18 years)
Tumblers enrolled in the senior level camp will enjoy working out with their peers. All drills and stations are designed with the older tumbler in mind. Students will work out on spring floors, tumble track and trampolines. Goals include improved body awareness and positive body image. Cheerleaders of all levels are welcome to attend this tumbling camp; students will work at their current level and ability to perfect the skills necessary to perform at the highest level of cheerleading. We combine our knowledge of gymnastics and conditioning to produce the best tumblers in the county. Skills include: round offs, back bends, back walkovers, back handspring drills, front walkovers, front tucks and back handsprings with a spot.
Not sure which camp is right for your athlete? Call the gym 301-695-9414 or email Coach Leigh at leighfgc@gmail.com